How often should I bring my dog to daycare?
Average attendance is twice a week. We recommend at least once a week, however, you may bring your dog as often as you would like or every once in a while. It is up to you. We have some dogs that come daily, and others that come every two weeks on the day that they are scheduled for grooming services.
What are your hours of operation?
Daycare hours are from Monday through Friday 6:30AM to 8:00PM and Saturdays from 7:00AM to 7:00PMandSunday 9:00AM to 5:00PM. We have staff on site 24 hours every day for overnight care.
Where are you located?
We are conveniently located at 611 Cooke Street near Honolulu's business district. Our main play area is 2,500 square feet of fun. We also have an outdoor potty area, and play area.
What happens at a temperament evaluation?
You and your dog will meet with a staff member to review your application and answer any questions you may have. Because the safety and well being of your dog is our priority, we conduct these evaluations to make sure that our daycare is a good fit for your dog. After the evaluation your dog will be introduced to (and "sniffed" by) a few of our other canine clients. Once your dog lets us know that he wants to play with the other "ohana", he will spend the rest of the evaluation in the main play area with the other dogs. The evaluation will last four hours and will cost $15 plus a $10 processing fee.
What happens if my dog fails the temperament screening?
Because most people using daycare are responsible pet owners with great dogs, the failure rate is low. In this case the owners of OHANA DOGGIE DAY CARE & SPA will review the evaluation and discuss their concerns and options with you.
What do the staff at OHANA DOGGIE DAY CARE & SPA do?
The staff members monitor the dogs' play at all times, give lots of love and attention, reinforce basic commands, give praises and healthy treats as rewards for good behavior, facilitate small play groups, walk your dogs, and of course clean up after them.
What happens in case of an emergency?
What happens in case of a dog fight?
Dog fights are not as common as you may think. In fact they are pretty rare. But even the best of dogs can have a bad day. If this happens, we will give the instigator some "time out." Because the dogs are constantly supervised, our trained staff will try not to let a scuffle turn into a fight.
Do you require reservations?
Because our space is limited, we recommend that you make reservations at least 24 hours in advance to ensure that your dog can attend on any given day. Preference will be given to our full time monthly clients.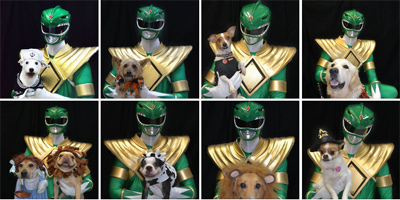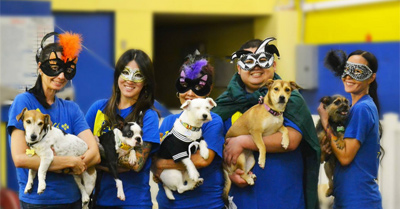 All dogs must have a socialization evaluation to ensure that this is the right mix for your dog.
All dogs must have current DHLLP and current Bordetella within 6 months.
We ask for a copy of shot records at your evaluation. Call and schedule yours today.
Click here to read our Rules & Regulations.